Mpumalanga Mesh:Dissemination
Jump to navigation
Jump to search
Dissemination
During the course of the project there have been a number of opportunities to present the events of Peebles to others. While some could be considered accidental if you examine these in line with the outcomes mapping you will see that many could be considered the 'love to sees'.
Print & Web
Television
Associated Press Television News (APTN) - the first filming session that created the famous cantenna story and picture
BBC's Click technology program flighted the Tin cantenna story that created many opportunities locally for media exposure.
SABC - as a result of the BBC documentary, SABC3 flighted a news story about the cantenna
Events
WSIS (Tunis) - Dwayne and Ajay presented on the IDRC stand about wifi and cantennas. The Meraka Institute was present on the South African stand presenting in part about FMFI.
Images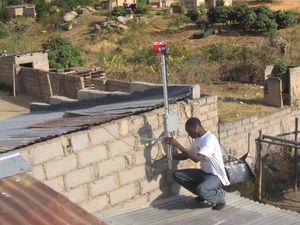 Lassy and the Can

Most widely used picture!
Appeared on the South African WSIS stand
Research Papers
Case study of mesh networking in a rural area in South Africa (Peebles Valley)