First Mile First Inch Home Page
Jump to navigation
Jump to search
---
Welcome to the First Mile First Inch (FMFI) site
---
Vision
The vision for the First Mile First Inch project is to have:
Social and technical innovation on service delivery models in different contexts of communities with low-density telecommunications

This has been further expanded at a partner workshop to be:
To collaborate among network members in order to achieve social and sustainable technical innovation that is scalable and replicable (Broad band/IP based, Low cost, affordable, Access=1st mile, Application= 1st inch) so as to guarantee Social interaction and networks of people that enjoy enhanced communication models that facilitate contextualised information exchange, applications and delivery between un/under and poorly serviced communities. This will be implemented through community participation, ownership and community empowerment, which will seek to influence governments policy and users wherever they are located in order to attain social and economic growth (wealth, prosperity and teaching).
Background
Basic access to communication and information services remains an obstacle to the economic development of low-density (rural) communities. The aim of the FMFI project is to identify and develop models and technology that will overcome these obstacles. The project will also establish a network of researchers and a community of innovators to research least cost, open source solutions for community projects. A well-managed organisation of a number of sub-projects with various project collaborators in the three different African countries of Angola, Mozambique and South Africa, will constitute the beginnings of the FMFI initiatives.

The rapid expansion of telecommunications infrastructure in recent years has helped to bridge the digital divide to a limited extent. The technology solutions developed to date are still expensive for rural communities, since they are developed with urban users in mind and cater mostly for the more affluent developed world populations.

Large communications infrastructure service providers, such as Telcos, often refer to the end point of their distribution networks as the "last mile". This is usually the most challenging and least desirable part of their network as it is often the most expensive and most difficult part to manage. This is particularly challenging in rural environments as this concerns the interface with rural communities. Finding the proper solutions to reduce these connection costs could increase access opportunities in rural areas.

This project aims to address the needs of rural communities by exploring and implementing potential innovative low-cost technologies for internet access and connection to the global information society and to compare the sustainability of each of these for remote rural communities. Read more...
FMFI Concepts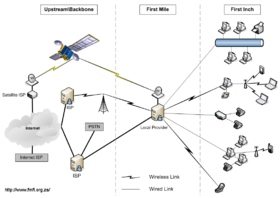 The First Mile First Inch (FMFI) project is a paradigm shift from the traditional "last mile" and "last inch" thinking representing a more bottom-up grassroots approach to innovation and focusing on the end user.

Upstream Backbone - the link between the local access provider and the rest of the Internet or PSTN, which will not in itself be addressed through the project, but which needs to be present for the rest of the project's implementation

First Mile (FM) - the links between the access devices and the local access providers

First Inch (FI) - the applications and access devices operated by the end-user
FMFI Network of researchers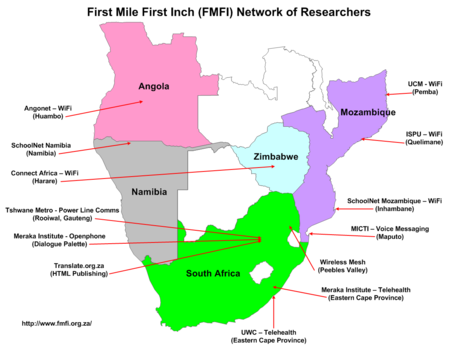 Angola
Mozambique
South Africa
CSIR, Meraka Institute (also co-ordinators of the network)
Translate.org.za
Zimbabwe
First Mile First Inch Project Brochures
---
---
This work was carried out with the aid of a grant from the International Development Research Centre(IDRC), Ottawa, Canada.