Angonet:Project Chapter
Jump to navigation
Jump to search

FMFI VSAT and WiFI, Huambo, Angola
| | |
| --- | --- |
| Researchers: | Olívia Augusto (olivia[@]angonet.org) |
| | Jonas Estevão (sysop.dw[@]huambo.angonet.org) |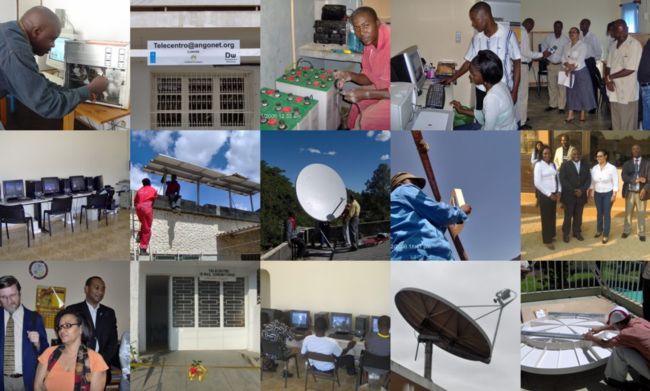 Angonet Details
Development Workshop and Angonet
Development Workshop (DW) is a non-profit organisation working to improve living conditions for the poor in less-developed communities. Its programme focus areas include shelter, peri-urban settlement upgrading, water supply and sanitation, primary health care, small enterprise development and disaster mitigation. DW's strategy is to strengthen the capacity of communities and organisations to act on development problems and opportunities. Founded in 1973, DW has worked with communities, grassroots organisations, non-governmental organisations (NGOs), local and national government authorities and international organisations in more than 30 countries.
Development Workshop Angola initiated the AngoNet program in 1989 with the objective to supply ICT services to non-profit organisations, community organisations, and individuals. The program has been funded by donor contributions including UNDP. AngoNet is program of humanitarian activities that is directed towards improving access to internet services, education, and business development in Luanda and other regional centres in Angola. The main activities aim to resolve the disastrous effects of a 30-year war on the country's communications infrastructure, bringing access to Internet and technology training to those in remote regions. AngoNet has primarily focused its activity as a service provider seeking to support community networks in Luanda and Huambo serving Civil Society Organizations (CSOs) and individuals – thus, universal access is a central part of its objectives. It has plans to extend its community access activities to the outer provinces of Angola.
Recent advances in connectivity via satellite, combined with the extremely rapid advance of digital radio technologies (known generically as Wi-Fi), today allows the installation of wireless community networks at reasonably low costs, with rapid implementation as compared to laying down fibre or other physical infrastructure. Our objective is to choose the appropriate technologies and to build strong ICT partnerships that will allow for greater leverage of AngoNet and so build greater ICT capabilities in Angola.
As well as operating the Telecentre business services described above AngoNet is also responsible as a project for the supply and maintenance of IT services to Development Workshop in 2 centres Huambo and Luanda. Costs for these services are recovered from DW.
Phase I has been implemented in Huambo, offering low-cost network infrastructures and ICT services. The program is expected to roll-out services to a number of locations in Luanda and the provinces. In order to facilitate this, DW is reconsidering its technical architecture and the services and suppliers that are used.
ICT configuration
DW and Angonet have experimented with a number of different options and have changed their configuration three times in three years. The current configuration in the two main locations is:
Luanda
DW current has a leased line installed, after going through a number of satellite and other options. They are considering the implications of an optical fibre link. They have made a huge investment in hardware and technology, which has now become redundant for the Luanda office, but do not see this as a waste as the technology could still be used in other applications in the provinces.
Huambo
The connectivity in Huambo is via VSAT with local distribution through WiFi and dial-up links. The telecentre in Huambo is the hub for the distribution and serves 8 wireless as well as 24 dial-up customers, covering government, NGO's, banks, business and educational institutions. The current cost for the satellite connection is $2250 per month. An attempt is being made to share the cost of the connectivity between the customers on a cost recovery basis.
Specific Angonet Boundary Partners
ADRA
ADRA is an NGO with an agricultural focus active in six Angolan provinces. It supports rural people in sustainable development projects through workers based in communities. They started with emergency projects during the war and have expanded their efforts from supplying seed and tools to now developing integrated projects involving food security, micro-lending, land issues and citizenship. They principally deal with groups of farmers, and building their capacity to come into consideration for government projects and contracts.
ADRA has a wireless link to Angonet and are very positive about the impact connectivity has had on their organisation. It has enhanced their communication ability with their donors and partners and replaced the unreliable postal communication they used previously. They send their reports electronically and get immediate feedback. ADRA project coordinators have computers and use these extensively in their project activities.
They have a library on the site and have also introduced a cyber café to provide internet access to students in Huambo. In this way they feel that they are contributing to the education of the students in the province.
ADRA exchanges electronic information with a number of countries, particularly Brazil. They share research results in this environment and with their other offices in Angola. An ADRA magazine is produced in Luanda and distributed across Angola.
ADRA produces its own material and have recognised the need to have a web site to capture and distribute the information. Their headquarters have advised them to get a web page or web site by the end of 2006. They think that a web site will also help them to advertise products and assist the farmers to make crop decisions. They have considered asking Angonet to help them with this, but do not have a budget line item to pay for this at the moment. They have had an offer from a Brazilian company to do a web site for them, but the Angolan government objected to this arrangement. Their dream is that the farmers will eventually have direct access to this content on the Internet.
The main ICT constraints ADRA are facing are an unreliable electricity supply, only four computer workstations for public access and a budget for web content.
Mubela Furniture Factory
Mubela is an small business development project under the guidance of Development Workshop which focuses on furniture manufacturing in the industrial area in Huambo. They currently have a large government contract to manufacture school desks.
Angonet is their ICT partner and have assisted them with their connectivity, networking and computer requirements from the outset. They are connected to Angonet with a wireless link and make extensive use of the Internet for research and communication by email. Initially the ICT component was new to everybody, but six people in the company have learnt to use the computers. They are in the process of preparing a dedicated room for ICT activities. They run their operations and finances on commercial software programme and are satisfied with how this is helping them with both production and financial management.
They are considering the possibility of a web site for their company and the products they produce. They would also like to get to the point where they are able to do Internet banking.
University of Agrarian Science Chianga
Angonet has been the ICT partner of the University from the outset and has provided ongoing support of the developments in the university. The university has its own VSAT installation, which provides a link to Angonet and DW in Luanda. The current priority activities for Angonet in the university are:
Assistance with content creation and digitisation of material.
Web site creation and hosting on the Internet
Expanding the workstations and connectivity of the computer network on the campus
Boundary Partners and Outcome Challenges
Boundary partners
The Boundary Partners identified and the motivation for each is given:
| | |
| --- | --- |
| University Agrarian Science | Users (teachers and students) |
| DW Community Telecentre Community Users | Students, Women, Small Business, NGO's, teachers |
| ADRA National NGO's | Community Users (teachers and students) |
| Governmental | (INACOM) Influence the policy |
Outcome challenges
Boundary Partner
Outcome Challenge
All users
To promote active and autonomous citizenship, through improved access to the Internet and promoting democratisation of information through widening the access to ICTs in a manner that supports "digital inclusion" for the previously marginalised segments of the population. All these services are indispensable and necessary for local communities who visit the Telecentre.
Community users
The great challenge widening the access to ICTs to organizations of the civil society, universities, central, provincial and municipal governments, and private sector
Students
Statistics given, but no Outcome Challenge
User groups
The project intends to empower user groups through the use of the technology and sharing knowledge with other users in the area. To build confidence of user groups by empowering them to better network using the telecentre
Women
To get more women to make more use of the information technologies for their own benefit (e.g. education or small businesses).

To reduce barriers against women's access to technology (edited)

Small business and organisations
To promote the community to use ICT's for contacts with other small business enterprise in the world
Progress Markers
The Boundary Partner for the progress Markers is given as Users; Community (Students "Men and Women"). There is no specific Outcome Challenge linked to the Progress Markers.
Expect to See
The community comes to the Telecentre and uses the Internet.
Improve management of the Telecentre and the number of community services offered.
Students come to Telecentre to improve their education.
Excellent quality (bandwidth) so that the students can access information on the Internet.
Encourage women to use the Telecentre
The telecentre will support the provision of information about education, agriculture, etc for all users.
Like to see
Many students used the Telecentre and access information on the Internet and share this information
Increase different services in telecentre and provide good quality services
Women - should feel confident when they come to the telecentre
Love to see
Rural communities and ADRA partners don't need to rely on ADRA to get information about the agriculture sector.
Growth and expansion - to develop a telecentre model for the government to replicate in other communities for their benefit.
General Comment
The OM framework guidelines need to be followed to make the construction of Progress Markers a meaningful exercise. One therefore has to focus on a single Boundary Partner, define the Outcome Challenge and then construct a ladder of Progress Markers to define the steps they would follow in reaching the top of the ladder. This then provides the guide for Angonet to influence their behaviour to move up the ladder and reach the final destination.
Strategy maps
The strategy map given focuses on general strategies for telecentre users.
Causal
Persuasive
Supportive
I-1
I-2
I-3
Supply ICT equipment
Offer free training for users to encourage them to come the Telecentre
Help to identify websites for access to useful information and promote:*Education online *Use by school children
Deliver training to the users of the system (Internet / E-mail)
Meeting with Women to invite them to visit the Telecentre
Small business and economic development
Make sure the connection is safe
Increase different low cost services in the telecentre (Windows, Open Office (Word, Excel, etc.)
Provide technical Support
E-1
E-2
E-3
The province needs to develop an economic ICT policy (INACOM). Facilitate this communication through telecentres for the community.
Contact the women organizations (women groups) to visit and use the Telecentre to access information on the internet
Include the ICT's all the community in Angola
Create websites with all the information (province).
General Comment
The focus in this Strategy Map is on the operations of the telecentre and involves different strategies for different types of users, as well as delving into technical issues. The focus is too broad and the strategy map needs to be revised.
Organisational practices
The items listed in this section appear to be the key performance areas for Angonet and have a connection with the OM categories.
Implementation System VSAT & Wireless
Open telecentres in Huambo
Develop open source learning
Training the community to use the ICT's
Sharing knowledge and information (key) with other partners.
There is therefore some reflection on what Angonet is doing and where it is heading.
Principal issues
Angonet is leading by example in what they have done with securing a viable satellite connection, distributing Internet access across a range of stakeholders, in a variety of options. They are also dealing with the cost sharing issue and making the connectivity an asset, rather than a liability. Angonet has also become a local ISP and needs to consolidate its functionality in this regard.
Telecentre business model
The telecentre model development in Huambo has gone through the full life cycle from a fully funded situation to a full commercial application. It has reached the pinnacle of community-based Internet access provision and seriously needs to consider the business future of the initiative and the business model it will adopt to remain viable and sustainable.
Influencing the regulator
The impact the Angonet initiative could have on influencing the regulator is recognised in the documentation. This needs to be taken further in terms of a structured approach to influence the regulator to promote relaxing some constraints, which may hinder the current and future Angonet connectivity provision initiatives.
Principal issues during implementation this Project
COMMUNITY TELECENTRE - continues to be the best in the city, not only due to the economic prices offered, but also since it has the best connection of any cyber café in the city. The users (both students and teachers) who use the Internet suffer from a lack of library resources in the city. For this reason new technologies are increasingly important for everyday use by different users of the Telecentre. However, there are some users who do not respect the Telecentre and damage the equipment. The person in charge of the Telecentre must regulate this kind of attitude.
WIRELESS NETWORK - continues to be the important alternative to make the Telecentre sustainable. It is necessary that there is enough capacity for the supply to satisfy the demand.
There have been considerable advances in technology. Angonet continues to install more radios (a wireless radio system) in different points of the province of Huambo. The wireless network to be installed in Huambo is composed of 8 clients.
SOLAR PANELS – During the period covered by these report solar panels have been installed to supply energy to the Internet system's equipment (VSAT & Wireless and Local Server), as well as to protect against the frequent power outages that occur in this province.

FACULTY OF AGRARIAN SCIENCES (FCA) - in January 2006 Angonet set up a system with 20 network connections in the Faculty of Agrarian Sciences (FCA), in order to serve more than 600 students enrolled in that institution. The Board of that faculty acquired close to 20 new computers.
This Internet lab will allow teachers and students to engage in didactic activities using information from the Web. The Library Resource Centre of ADRA Angola, in Huambo, makes internet access available to 75% of its staff and partners in order to facilitate online access to various universities to find information about agriculture which can then be used in rural areas.