UWC Telehealth:Technology
Jump to navigation
Jump to search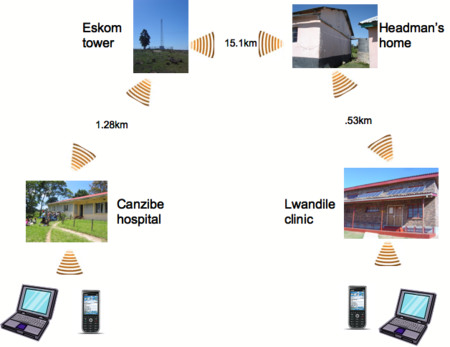 The hilly terrain and lack of line-of-sight between the hospital and clinic required two intermediate relays for the network. We use cheap and standard 802.11b WiFi technology. Each node costs about R4000 (roughly $575), with a bit more for the solar sites. Either solar or mains charge a 12v 96aH battery. All network hardware was purchased locally in South Africa. However, the WRAP PC boards run a Linux image crafted by the CRCNet group in New Zealand.
Starting from the hospital, each node runs as an Access Point (AP) for the subsequent node. We also added APs internally at the hospital and clinic. Note that this network is now connectd via a wireless gateway to a broadband VSAT network located at the hospital. The gateway NATs the rural WiFi network and provides Internet access to the entire network.
The end-user devices include both laptops and WiFi-enabled cell phones. GPRS coverage is adequate in the area. We figure that the end-users can make use of broadband Internet for free while at a hotspot, and continue to use the Internet while away from the hotspots (at a fee charged by the service provider).